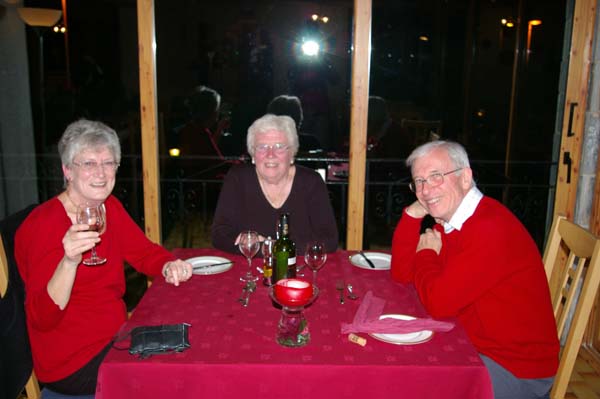 Early January marked the arrival of Peter and Sally, along with their good friend Margaret, who had made a booking several months before to stay with us in our self-catering apartment. They flew in to Valencia and hired a car at the airport, arriving by about midday – which meant they had had a very early start in the UK. When commenting that they obviously had no trouble finding us, since they made the trip from the airport so quickly, it emerged they knew the whole area really well, as they used to own a holiday property in Xeraco, the next town north along the coast from Gandia. So this was something of a trip down memory lane for them, visiting all the places that they knew and loved when they were regular visitors to the area.
They had booked our self-catering apartment as they thought that a self-catering holiday would be the best option for them and give them the greatest level of independence, but they often chose to dine with us in the main part of the house in the evenings. Each evening they would tell us of the trips they had made that day, comparing the area with how they remembered it when they last came – 15 years ago! They saw many changes, but also had to agree that Gandía had developed into a truly vibrant town, and one which had so much more to offer than in the past.
They made excursions both north and south along the Costa Blanca, as well as inland to Xeraco with its famous castle, and picturesque Guadalest – also with a castle and quaint winding streets and tourist shops. Other places of interest for them along the Costa Blanca included Calpe, Denia and Benidorm, as well as Cullera, Tavernes, and the famous monastery at Simat just a very short drive from here.
They found it intriguing and gratifying to revisit all their old places again, and were pleased to see that the area had evolved so nicely and managed to retain its charm and character. Far from being put off and wishing they had not gone back to revisit happy memories, they felt it had been a very worthwhile experience, and after a week's stay in the apartment their only feeling was that maybe they would return for another visit, and the next time in warmer weather. The winter sunshine had certainly favoured them with lovely weather during their stay, but they felt it would be a good idea to be able to take advantage of our swimming pool and gardens more on their next trip. We certainly look forward to seeing them again, and hope they find their next trip as worthwhile as this one.
Relevant information for  Self Catering Holidays Spain
Costa Blanca Holidays