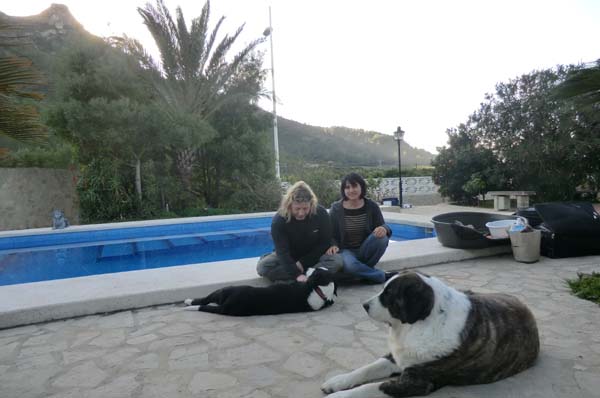 Jeanne and Philippe arrived on Friday evening, driving down the E15 Autopista del Mediterráneo (otherwise known as the A7 motorway!), along with their lovely dog – a Labrador/Newfoundland cross puppy named Baloo. They had driven from their home near Grenoble in France, and were on the way to Andalucía for a well earned break from the organic farm that they run. As well as being in a convenient location for a stop-over, they had been looking for a place that they felt would be pet-friendly and where they could spend the night without having to worry that their dog might not be welcome.
They arrived about 6.00pm and could not believe how warm it felt here compared to Grenoble, where it has been as low as -17°c at night recently! They decided to spend some time having a drink in the garden before dinner, so that the dogs could get acquainted with each other, and soon the animals were all happily wandering around together. Jeanne and Philippe had been looking for pet-friendly accommodation to break their journey, and they certainly felt they had found what they were looking for!
During dinner, Baloo happily sat upstairs on the terrace with two of our dogs and behaved like a true gentleman, and afterwards had something to eat downstairs with them as well. The cats treated him with caution at first, but then realised that he could be ignored, as he was far more interested in being friends with our dogs than in intimidating the cats at all!
Baloo slept in his owners' room for the night, and then enjoyed a run and play in the garden with our dogs in the morning at breakfast time. When it came time to leave, he clearly did not want to get in the car at all, obviously thinking he had found his very own pet-friendly hotel that would suit him just fine for the rest of their holiday! After a bit of persuasion, however, he jumped up into the back of the car, and settled down for the rest of the drive to their final destination – about 4 hours away. It was great to have guests who were so easy to get along with, and who had a pet that was so well-behaved (especially for a young dog). They will possibly call in to see us again on the way home, and if they do so, it will be a pleasure to see them all again.