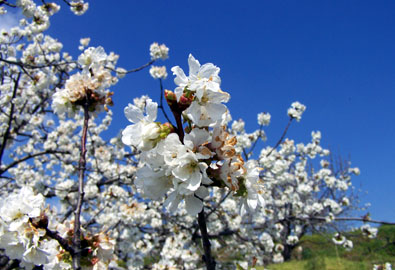 The worst of the winter weather is now well and truly behind us and we can look forward to the beginning of a new season and a steady rise in temperature. One of the main attractions of living on the Costa Blanca is of course the much milder climate compared to the UK, so although residents here might complain about the cold season, it really is nothing compared to what they have left behind.
The first of the year's property hunters arrived to stay at Villa Florencia at the beginning of the week, having decided that the Gandia area was the ideal base to look around for some bargain Spanish properties for sale. It is the perfect area for those not wishing to be a part of the concentrated ex-pat communities further down the coast, but ideal for anyone looking for the opportunity to settle in a part of the country still so authentically Spanish. Added to that, there are excellent communications in the area with a great motorway network, efficient railway system and Valencia airport also within easy reach.
Following the worst of the economic crisis now is an excellent time to think of making that major investment in a Spanish property – either for holiday use or as a new permanent home in the sun. Prices are much lower than they have been for a long time, and there are lots of bargains to be had up and down the Costa Blanca. Many owners are advertising their homes at prices that would have seemed impossible not many months ago, and those that are not may well be open to offers anyway! Whatever type of home you are looking for, whether it is an apartment, a holiday home on a development with others like it, or a large, more exclusive villa with a pool and its own grounds, there has never been a better time to start your search. The exchange rate is even more favourable than in the recent past, and although it is nowhere near the levels of four or five years ago, nevertheless it all helps to make that dream bargain property even more affordable.
Whether you are thinking of a holiday home in the sun or a permanent change of lifestyle, it is well worth taking advantage of the low cost flights to be found at this time of the year and coming to see what is available. Gandia Casa Rural (Villa Florencia) provides an ideal base for checking out the vast choice that is on offer all along the Costa Blanca – one of those bargain Spanish properties may be just the one you have always dreamed of!