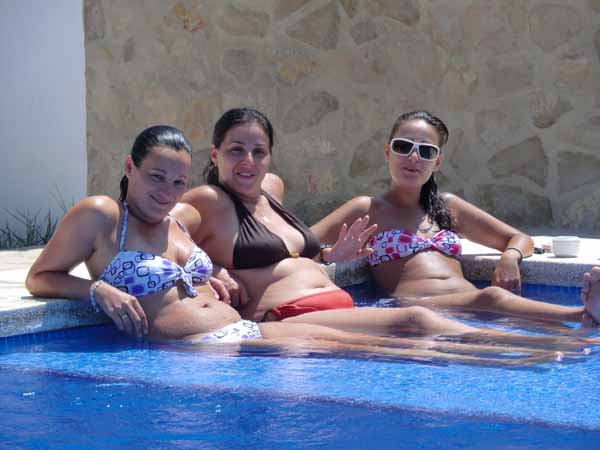 We received a phone call a week ago from a past guest who wanted to return to us again – always a request we are pleased to get! This lady and her husband live in Guadalajara near Madrid, and the last time they had come with another couple on a bed and breakfast basis. This time, however, she was interested in a villa rental holiday, and they wanted to bring a third couple with them as well.
A villa rental sounded like a great idea for them, since it would give them the full flexibility that they were looking for, and they remembered that we have a self-catering apartment as an integrated part of the main house. This would be the ideal size for the six of them, and a more economical option compared to renting the main house, which can sleep a maximum of twelve people. Naturally, they would be able to make use of all the facilities of Villa Florencia that are available to all our guests, whether they are villa renters, B&B guests, or renting the self-catering apartment.
They were only able to come for two nights, so the fact that we can rent out the apartment for such a short period was a huge bonus for them. They arrived on Monday in the early afternoon and were delighted with the facilities that the apartment had to offer. They had already done their food shopping in Gandía so unpacked everything without delay, and settled in to holiday mood around the pool within a few minutes.
Because most of them were returning guests, they felt at home straightaway and lost no time in enjoying the sunshine in the garden and around the pool. After a trip down to the blue-flag beach at Playa de Gandía, they returned and decided that Monday evening was to be barbecue evening, so they spent the late evening enjoying their barbecued food in the open air, and swimming in the pool until it was eventually time to get some sleep.
Tuesday was another beautiful day, so the late morning was spent around the pool and in the gardens, before another trip to the beach – for a little longer this time. They took drinks and snacks with them, and only returned at about eight o'clock in the evening, in time to prepare a meal and spend time until the early hours relaxing, listening to music and chatting in the garden.
Since we are as flexible as possible concerning check-out times, they were able to make the most of their villa rental short break and stayed until five o'clock in the afternoon, before reluctantly packing their things into their cars and setting off for Guadalajara – a trip of about five hours. It was a pleasure to see them again, having first welcomed them in 2009, and even better that they wanted to bring new friends with them.
They were all delighted with the concept of a villa rental, but one which had more flexibility and was perfectly suited to the size of their group, and said they felt very much more relaxed after their stay. We look forward to seeing them again in the future, and maybe even with a larger group of friends the next time!