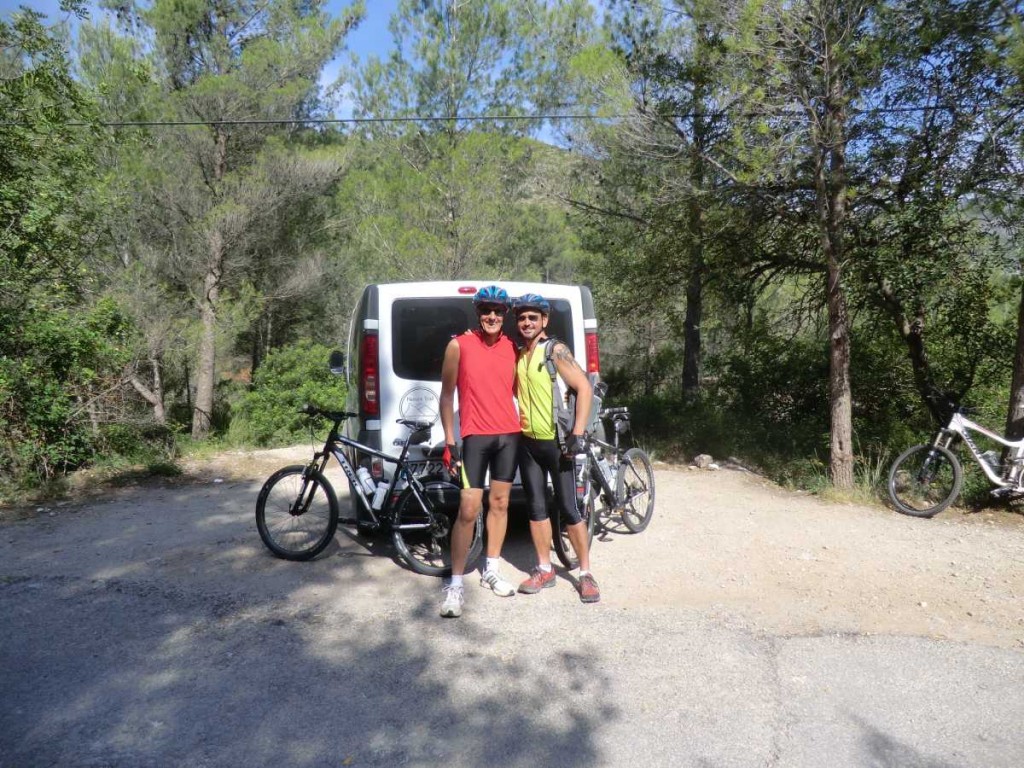 Mountain biking – Fun not hard labour!
Mark has recently gone on several mountain biking trips with Dave Warrington, a friend of ours who runs a business specialising in activity holidays and excursions. These include bird watching, hiking, and of course mountain biking, and Dave is pleased to adapt his trips to suit the needs and preferences of his various clients. Mark has accompanied him several times to reconnoitre biking routes and trails and has always found the experience thoroughly enjoyable.
Not having spent any time on a bike of any description – road or mountain – for many years, I thought that maybe it was time to see for myself what the mountain biking experience was all about, and take the opportunity to see a part of the countryside around here from a different aspect than would normally be possible. When Dave asked me if I would like to accompany them along one of the routes in the area, I accepted without hesitation – although possibly with a little trepidation! Not having been on a bike for so long I was certain that I would find it fairly strenuous and had the distinct feeling that I would be paying the price for using muscles that had not been so well used for a while!
Dave planned to take us on a really beautiful route that starts on the outskirts of Villalonga and in fact follows part of the course of the long disused railway line that once ran between Alcoy and Gandia. It meanders through gorges and valleys, beside the River Serpis as well as passing through several tunnels along the way, so there are lots of points of interest during the course of the route and places to stop for lunch or a drink. We drove to the starting point, and set off at about 10.30am, after Dave had given me some instruction and reminders on managing a bike over stretches of unstable terrain and the use of the much wider range of gears than I had been used to!
The track went through the first of the tunnels after what seemed to me to be a fairly short time on the bike, soon followed by the others, and then all of a sudden we emerged along by the River Serpis and were able to stop at a beautiful crossing point of the river, where there is a weir to add even more interest. Dave had sustained a puncture just by this stage, but was able to change the tube while stopping here for a drink of water and a breather. By this time I was thinking that it had to get considerably harder, but was enjoying the fact that I was getting the feel for the gears and the ride of the bike generally. We carried on climbing steadily along the track (a mixture of some hard surface but mainly dirt) and then stopped for our packed lunch at the site of the old railway station at L'Orxa – a place with beautiful views and overlooked by a ruined castle. We then carried on climbing further until we reached the tarmac road leading to the village of Beniarrés – a steep climb into the village, but the reward of refreshments at a local café awaited us!
Then it was a question of returning back along the track the way we had come – although this time it was mainly downhill of course – and seeing the countryside from a different perspective again. We repeated our refreshment breaks at L'Orxa railway station and again at the weir by the Serpis river, and then it was back through the old tunnels and a final climb up to where we had left Dave's van to take us home. It was a thoroughly enjoyable day out, and an opportunity to see some superb scenery and views that you simply would not see from roads or in a car. On returning home, I was convinced that I would be paying a heavy price for my exertions and was fully expecting to feel the onset of aching muscles and tired legs. I still had not quite got over the fact that I had not found the 34 kms exhausting – I had kept expecting it to become difficult and taxing, but not at all. No sore legs by bedtime, so they would manifest the next day for sure, I thought. In the morning I got up without even thinking about it, and only later remembered that I was supposed to be aching all over – but no!! A combination of good instruction from Dave about how to get the most from the bike and use the gears properly, and the fact that bikes have evolved so much since I was on one last, all meant that I felt no ill effects from the experience, and only wanted to try it again!!