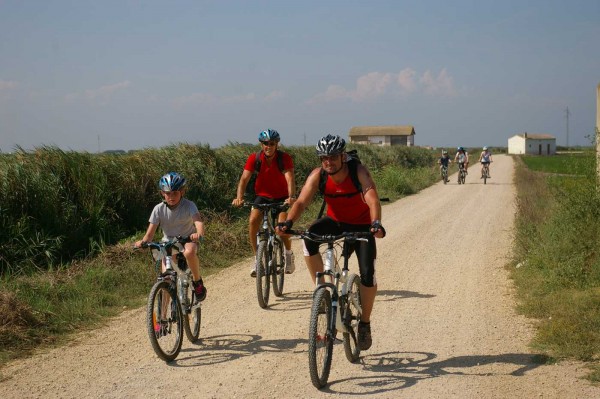 Family Biking Holidays on the Costa Blanca
We recently had some members of our own family visit us – daughter Samantha with her partner Charlie and their children Adam and Elizabeth – and they were looking forward to some beautiful weather and lots of relaxing around the pool. The first few days of their nine day visit were spent doing exactly that – relaxing after the stresses of their everyday lives, swimming and soaking up the sun.
One evening's outing took us to Gandía to take advantage of the Tapas Route that many of the bars are promoting in the town at the moment. The idea is that participating bars offer a drink and tapas for €2.00 and townspeople go from bar to bar, sampling the different ones that are available. The quality and quantity of the tapas are both amazing, and it is true to say that most people will have eaten their fill after about four. It is a real family night out for local people and a perfect chance for visitors to the town to get a true feel for Gandia and its friendly atmosphere. Samantha and her family really enjoyed it, and certainly Adam and Elizabeth in particular loved the fact that they could join in on what in England would not be such a family or child friendly affair.
After that, it was time to have a little more of an active time on their summer break on the Costa Blanca, so we decided to climb up to the rock-climbing faces of our local climbing crag – Gandia Crag, or Penya Roja as it is known locally. We set off late one afternoon after the heat of the day had subsided, and made our way up along a rocky path to the base of the climbing faces and then walked along the path that runs around the crag where true rock-climbers scale the climbing routes. The views across the valley are breathtaking and a great reminder of the beauty of this part of the La Safor region.
More family activity was planned for Sunday, with a mountain biking expedition to the famous wetlands and rice growing area of Valencia known as Albufera. Thanks to Dave Warrington at Mountain Biking Valencia we were able to have a really excellent day out – he collected us all and took us to our starting point in the wetlands, where he guided us along our route of about 15kms to the village of El Palmar, the traditional home of paella, just in time for lunch and then a boat trip out on the huge lagoon there. It is home to a wide variety of birdlife and we were constantly delighted by different birds flying around the boat during the trip. After the boat, it was time to cycle back to Dave's mini-bus, so after a total of 28kms biking the whole family had had a great day out and enjoyed a totally different experience. The bikes that Dave offers his clients are advanced and well engineered and it always comes as a surprise to those who have not been on a bike for some time that your muscles do not protest unduly the next day either – a really great day out.
Sadly, it was soon time for the holiday to come to an end but it had been a great visit with a wonderful mix of relaxation, activity and quality time together. The weather had been perfect and everyone had thoroughly enjoyed themselves. We look forward to Samantha returning with her family soon, and maybe sampling a more challenging biking route the next time!!