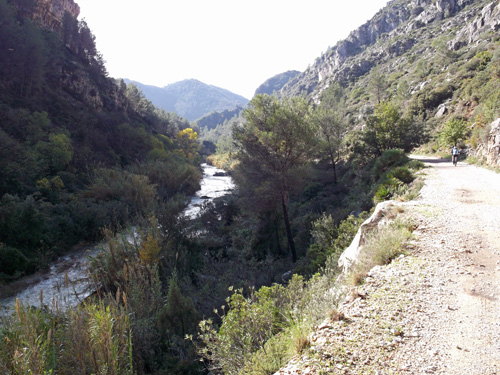 Autumn Activity Holiday – Mountain Biking in Spain, Walking and Winter Sunshine
Towards the end of October we received a reservation from Anne and Nigel who wanted to come to our part of the Costa Blanca in order to have an activity holiday in some welcome autumn sunshine. It was their intention to spend time getting to know some of the towns and villages in this part of Spain – which they had not visited before – and also to be out in the beautiful countryside both on foot and with mountain bikes.
Since they were experienced mountain bike enthusiasts, they had already been in touch with Mountain Biking Valencia to arrange the rental of bikes for some of the days of their visit. They wanted to combine some guided excursions with some skills training, so by the time they arrived they had a fairly clear idea of what they wanted from their holiday. Dave and his wife Carolina joined Anne and Nigel here at Gandia Casa Rural for dinner on the night of their arrival in order to meet with him face to face and decide on the form the ride should take on their first full day of Mountain Biking in Spain, here in the La Safor region.
Taking a packed lunch with them, they went on a trip of about 35kms along a beautiful gorge, following the course of the river until coming to the valley and reservoir at Benniares. They had a great experience that day and this only served to whet their appetites for more of the same, but with the added benefit of improving their existing skills. With this in mind, they spent another day with their mountain biking guide during their stay with us, concentrating on a route that took them a total of 42kms and ascending over 1,000 metres and leading to the Albaida valley. This is an area of great natural beauty and the route also provided them with the opportunity to improve their skill at descending rocky trails with a high level of confidence and control.
Anne and Nigel spent a week with us, and in that time just loved being out and about in the lovely sunshine. On the days that they were not out mountain biking, they would more often than not take a packed lunch with them and drive to a designated hill walking or hiking route and spend the day there, or else they would drive and explore some of the beautiful inland towns nearby. Xativa, with its historical castle, was a particular attraction for them and they wandered through the picturesque, narrow streets up to the famous castle that dominates the town and the surrounding valley. Simat, with its partially restored monastery, was another favourite – and one that is only a very short distance away from us here at our Casa Rural. One morning Nigel decided to take a rental bike and ride up Mount Monduver, the mountain that dominates our valley and is the highest in the region. This was a ride that incorporated an ascent of some 900 metres and a distance of about 25kms – quite an achievement when you consider that he was back at home in time for lunch!
A lazy holiday for them it most certainly was not. An enjoyable and refreshing one, however, it was. They really did have a great time here with us, and found that they were able to get exactly what they wanted from an activity holiday, but combined with the comfort and convenience of their accommodation here at the Gandia Casa Rural. They dined with us every evening, made use of the modern facilities like the free WiFi that is available throughout, and even managed to get in a little time sitting in the sunshine in the gardens beside the pool. Since this was November, the pool itself was not part of their holiday fun – but that definitely did not detract from what was a perfect autumn activity break for them. We certainly enjoyed having them visit us and look forward to their return, when they can explore even more of what this part of the northern Costa Blanca has to offer the out of season visitor.