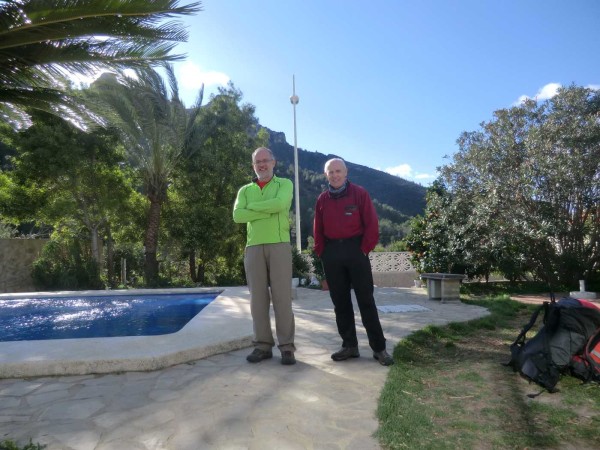 Spring Rock Climbers
Recently, we were very glad to welcome a group of three friends who were visiting us in order to spend a few days rock climbing some of the famous crags to be found along the Costa Blanca. John, Jan and Marek arrived last Saturday for a week's stay, and had done a fair amount of research before their arrival about which crags they wanted to scale.
They had undertaken several similar rock climbing trips together as a group in the past, but this was the first time they had visited our part of the country. After arriving early Saturday afternoon, they went to Gandia Crag – known locally as Penya Roja – since it is literally within walking distance of our villa and provided the opportunity to get a little bit of climbing in on their first day, without spending any more travelling time. The weather was warm and sunny, and was a very welcome change for them compared to what they had left behind in England, and indeed this was to be the pattern for their week with us.



Each day they would make a well planned excursion to one of the crags they had researched before they left England, the exact selection on each day depending on how they felt at the time. They would make their own packed lunches to take with them, and in the evenings they would either make use of our evening meal service, or explore Gandia or Playa de Gandia to find a restaurant that suited their requirements that day. They were fortunate in that the timing of their visit coincided with the build-up to the fiesta of Fallas in Gandia, which culminates on March 19th, so whenever they went into town in the evening there was always plenty to see and do.
Their week passed quickly and very enjoyably, with a good range of crags climbed and they were left with the thought that maybe a return visit would be called for sometime in the foreseeable future, as there were many other climbing challenges in the area they felt they wanted to take on. They were a very convivial group of guests, and we certainly hope they will come back and visit us again and complete the list of climbs that they want to conquer.