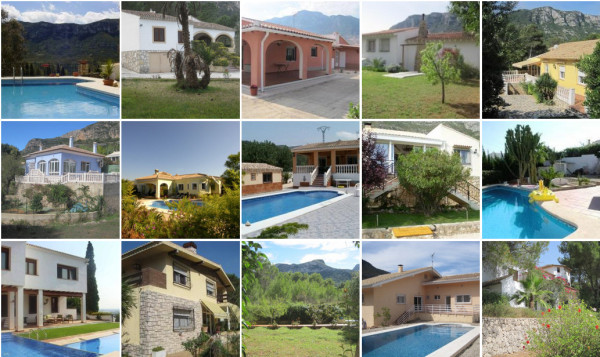 Bargain Spanish Property for Sale
Property Hunters from Far and Wide!
In line with recent trends, we have seen more property hunters come to visit us in a quest to find a home in our part of the northern Costa Blanca. In the last few months we have had an increase in the number of guests coming to look for suitable homes – either as permanent or holiday accommodation – but now they are coming not only from the traditional places such as England but also looking to relocate here from other parts of Europe as well.
John and Pamela for example are an English couple who spent three days with us on their second visit to the area. Although from England originally, they have lived for the last ten years in Italy but are now wanting to move on again. This is not because of any particular dissatisfaction with Italy, but rather because they feel it is time for a change and they are aware that Spanish property values have now fallen to a much more realistic and affordable level on the Costa Blanca. Easy access to the UK is a consideration for family visits too, but much more so is the feeling that Spain is again becoming an attractive country in which to settle and invest in a home.
Likewise Malcolm spent some time with us recently on a Spanish property search. He had already investigated other areas of Spain, but preferred our part of the country because of its verdant scenery and climate that is less extreme than further south. Although Malcolm lives in England at the moment, this is only a temporary situation as far as he is concerned, as he moved to a property he already owned there after selling his main home in Greece about a year ago. He has decided that England is not where he wants to live for any prolonged period however – largely because of the climate – and has therefore decided to settle in the Valencia area. He is currently considering properties he has viewed here, and is also giving serious thought to renting a home here in order to be absolutely certain before committing himself to a purchase. Quite rightly, he wants to be sure about the exact property and the location before making a final decision.
Another guest looking for a home is Keith, who stayed with us briefly last week. Keith's wife Lucy had visited us the week before and had seen a couple of properties she had thought might be suitable so Keith was following in her tracks to see if their ideas coincided – which they did! Now it is a question of deciding between two Spanish properties that meet their requirements. It is true that Keith and Lucy are relocating from England rather that from southern Europe, but again they feel that Spain now represents all that it did before as far as long-term property investment is concerned and once again offers value for money as well as a more suitable lifestyle for them.
Spain does indeed seem to be making a certain amount of recovery in its property industry compared to only a few months ago. Many parts of northern Europe seem to feel either that they have come through the worst of their economic woes, or else that this is the new reality that everyone has to get used to, but either way Spain presents itself as a very attractive destination for those wanting to change their way of life. Hopefully for the health of the Spanish economy, this really is the beginning of a long-term revival of the property market over here, the benefits of which would of course be felt (and greatly appreciated) throughout the whole economy.
If you are interested in the Spanish Property in the La Safor region of Spain, why not book one of our 3 or 5 day regional inspection tours. We offer you the opportunity to come and see the area without any pressure or obligation.
We are not property agents, solicitors or vendors – we operate a successful accommodation business, but made the move ourselves seven years ago, and have all the contacts if you decide you need them.