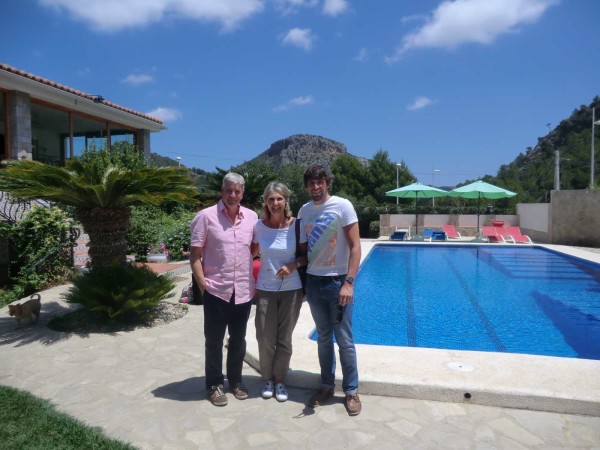 Costa Blanca Property Viewing Trips

They came; They saw; They bought!
We recently received a booking from Colin Mason and his family, wanting to take up our offer of a Property Viewing Package of three nights' accommodation with a late check-out on the afternoon of the fourth day. They had already made some appointments to view property in the area, and wanted some friendly accommodation for their stay – possibly with some suggestions and advice thrown in at the same time!
Colin was coming with his wife Christine and grown-up son Mike, and they were looking for a holiday property that would be easy to lock up and leave during the time when they would be in the UK. They only wanted a modestly sized home, although they were well aware that much larger properties could be purchased for only a small amount of extra money. However, what really suited them would be a villa with about three bedrooms and a pool, and preferably situated not far from the beautiful beaches of the northern Costa Blanca. It had to be near amenities that would suit them and their three grown-up sons and mutual partners for daily requirements, as well as being within striking distance of airports and the attractions of Valencia City itself.
They booked in for the Friday, Saturday and Sunday nights, with their return flight departing on Monday evening, and their original intention was to look at some properties with the idea of assuring themselves that this area was to their liking, but without any real intention of committing themselves to anything at this early stage. They had already spent some time eliminating other parts of the country further south – mainly because of arid landscapes or a lack of any authentic Spanish "feel" – and wanted to see if this area lived up to its reputation of being a part of Spain still largely undiscovered by the foreigner, but where many Spanish people come for their own holidays.
After arriving at lunchtime on Friday and settling in to our self-catering apartment they met up with their estate agent and began viewing properties in the area, spending the rest of the day seeing a cross-section of what was on offer. Like all property hunters on the Costa Blanca now, they were aware that prices have fallen throughout the country and have reached levels that make buying Spanish property a much more attractive proposition than during the latter years of the boom. Houses can now be bought for prices similar to the time when Spain was seen as good value if you wanted to either move abroad or buy a holiday home. Colin and his family arrived back in the early evening and seemed to be very impressed with some of the properties they had seen – it was a question of deciding if the right property was also in the right location!
Saturday was more of the same, with more villas to look at, but also with some time set aside to explore Gandia town itself as well as the beach area. When searching for a property, you have to make certain that the general area fits your criteria as well, and they soon came to the conclusion that the La Safor region met all their requirements. Sunday was spent with some time allocated for relaxation around the pool, but also with a couple of viewings booked as well – second viewings of homes they had seen earlier in their visit. They had in fact decided that two properties would suit them very well indeed, and they were particularly keen on one of them, so decided to put in a verbal offer to the owner during their second viewing. However, this was refused – but Colin had thought he might as well try and see what the result would be. They did like the villa very much indeed though, so then submitted a slightly higher offer – and heard later in the day through the estate agent that this second offer had been accepted.
Sunday night was therefore something of a celebration – a tentative property viewing trip had turned into a decision to purchase, and one which seemed likely to go ahead! We therefore joined them on taking part on the fiesta of San Joan which coincidentally was taking place that evening – a celebration of the solstice down at the beach during the evening, with a real party atmosphere. Families build bonfires on the beach and have barbecues there, before fireworks at midnight and a general celebration of the true start of the summer season. Colin and his family were really pleased to be able to see another aspect of Gandia life at first hand, and experience the delights of an authentic Spanish fiesta for themselves.
Because of their quick decision, it was possible for them to set things in motion properly for their purchase to proceed before their flight left on Monday evening, so they saw an English speaking lawyer on Monday morning to give her instructions concerning the contract for the purchase. It is anticipated that they will be returning to us sometime in August for the next stage in the buying process, with a view to the property becoming theirs in early September – a timescale that suits them as well as the vendors. We very much look forward to seeing Colin and Christine again at that time, and of course to meeting the other members of their family, who are also intending to make use of the new home as a holiday base for many years to come.

If you are interested in Spanish Property in the Costa Blanca region of Spain, why not book one of our Costa Blanca Property Viewing Trips. We offer you the opportunity to come and see the area without any pressure or obligation.
We are not property agents, solicitors or vendors – we operate a successful accommodation business, but made the move ourselves seven years ago, and have all the contacts if you decide you need them.