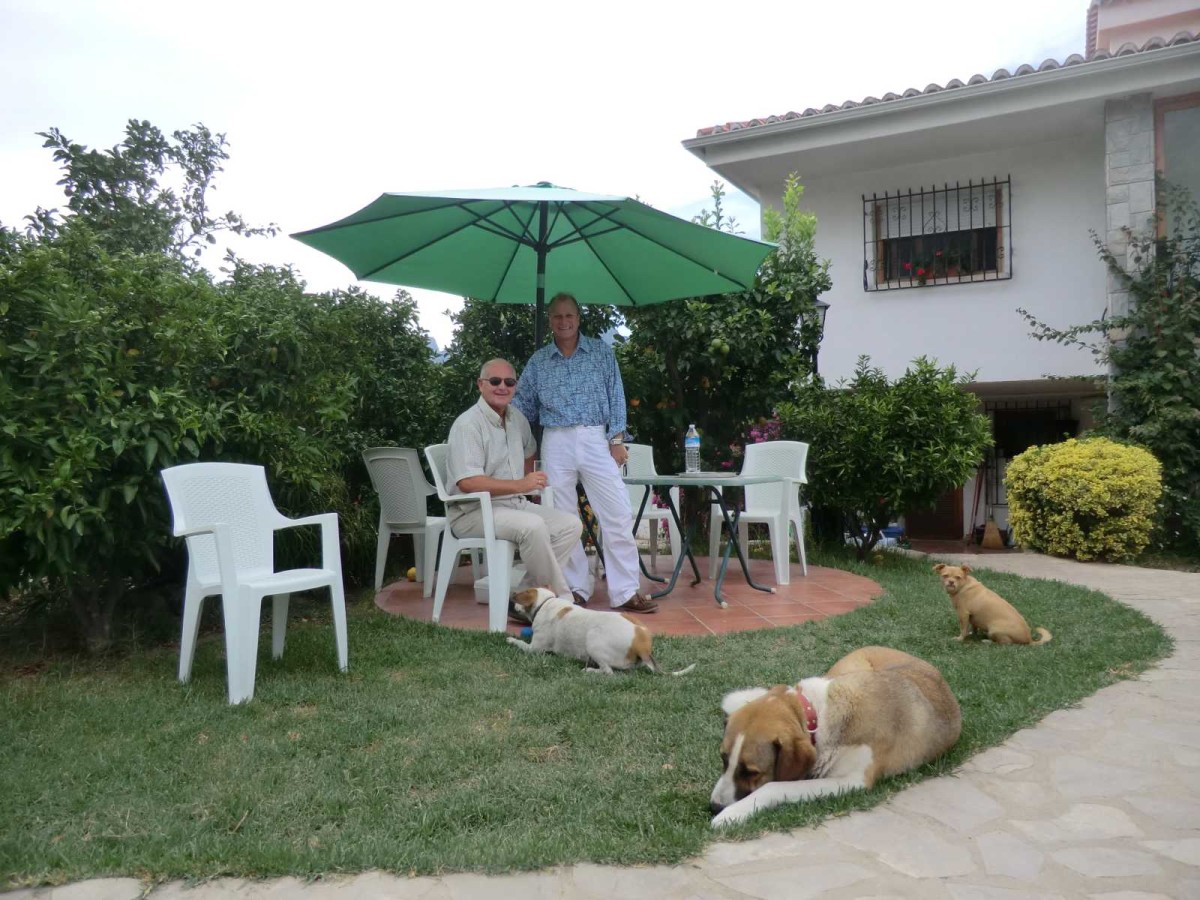 Spanish Property Hunters return for a second look!
A couple of weeks ago we were glad to meet Malcolm who stayed with us for one night only at the end of a property hunting trip to Spain – but that was enough to convince him that this was the part of the country that would be right to look for a home in a serious way. He found a couple of properties that he liked during that visit, so now he returned to us, but this time with his partner Paul, in order to look again at some of the houses he had already viewed before, as well as to look at some others for the first time.
They had in fact been staying in a hotel in the centre of Gandia for a couple of nights before coming to us in order to get a proper feel for the town they were thinking of making their home. This period spent in the town itself only helped to confirm in their minds that Gandia is indeed the vibrant place they had thought, with plenty of heart and soul to it and well able to supply everything they would want for a comfortable life on the Costa Blanca. By the time they arrived at our door they were certain that the La Safor region was the place for them – it was now just a question of finding the right house to make their home!
Malcolm and Paul both felt it would be a good idea to see some different types of property as well – so not only the standard type of spacious villa set in a garden with a pool, but also maybe some traditional townhouses, which could be easier to close down for short periods – when going away on holiday for example. They viewed several of each type – villas and townhouses, in both modern and traditional styles – but pretty much came to the conclusion that a villa in a garden would be better for them, as there would always be plenty to do in a home with some outside space to look after and be creative with. Townhouses have many advantages, but generally lack the outside area that is so important to many people.
They found several properties that they liked, but – as is so often the case – they were not necessarily in the right location. One Spanish Property that particularly grabbed their imagination is one in our own area of Marchuquera but they felt it was in need of some renovations, which would obviously be a cost factor. When they thought about building these anticipated costs into an offer, which they made via an agent to the owner, it appears that (for the moment at least) there is not sufficient room for manoeuvre on either side for a deal to be done.
After their two night stay with us, during which they managed to spend some time relaxing around the pool to think about their life changing move, it was sadly already time to return to England but they felt their time here had been time very well spent. They now have a fairly firm idea of what they want from a Spanish Property here on the Costa Blanca, as well as having gained a lot of knowledge of the Spanish Property market out here generally. They are aware that good properties at realistic prices are once again to be found here in the La Safor area – it is just a question of finding a home that ticks all the boxes for them. However, they are in no great hurry and now know all the boxes they feel need to be ticked, so we look forward to seeing them again – probably in September – when they resume their search after the busy summer holiday season is over.
If you are interested in Spanish Property in the Costa Blanca region of Spain, why not book one of our Independent Property Viewing Trips. We offer you the opportunity to come and see the area without any pressure or obligation.
We are not property agents, solicitors or vendors – we operate a successful accommodation business, but made the move ourselves seven years ago, and have all the contacts if you decide you need them.