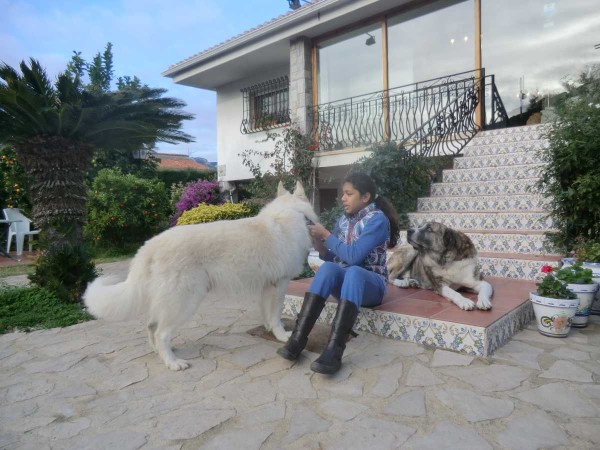 A Vegetarian Stop-over!
We recently welcomed the Subrahmanian family to Villa Florencia, as they wanted to stay overnight on their way to a holiday villa they had rented near Malaga and they had been looking for accommodation that would offer them vegetarian cuisine.  Originally from Mumbai, Chitra and Ram moved to Switzerland about fifteen years ago, and their daughter was then born in Geneva five years later.  They love travelling around Europe during their holidays, but had never explored Spain until now.  They stayed with us because they had been looking not only for a guest house conveniently located between the north and south of the country, but also one that was happy to cater for vegetarian preferences, and also welcomed pets as well.  They were travelling with their two beautiful, white Swiss Shepherd dogs, so our apartment suited them perfectly with its spacious bedrooms and living area.
Since they were only staying with us for only the one night during their journey (they had already stopped near Perpignan the previous night after leaving Geneva), they wanted to dine in with us, rather than making use of the kitchen in their apartment or searching for a suitable restaurant.  This was not a problem, as we are always happy to cater for different dietary requirements and vegetarian cuisine is a fairly frequent request.  However, it can be difficult to find restaurants and hotels that offer vegetarian options on the menu, so Chitra and her family were very appreciative of the opportunity to make use of our evening meal service.  They thoroughly enjoyed the experience of staying with us, so much so that they made a booking in our vegetarian bed and breakfast in Spain, for another overnight stop with us during their return journey, ten days later!
It was great to welcome them back again so soon and to hear how their holiday near Malaga had been.  They had a wonderful time, with good weather and plenty of opportunities for excursions around the southern part of the country.  They were particularly enthusiastic about visiting the Alhambra in Granada – one of their main reasons for deciding to go right down to the south!  On their return visit, it was like welcoming friends back – and of course their dogs felt immediately at home in surroundings that were no longer strange and new to them.  Their only regret was that they were not able to stay with us for longer, as they loved the scenery and verdant look to our part of the Costa Blaca.  As they were leaving they said how much they would like to return for another visit, but for possibly a week in the summer, when they could make use of the pool and enjoy the gardens.  We very much look forward to welcoming them back, and are glad they enjoyed their "vegetarian break" with us!