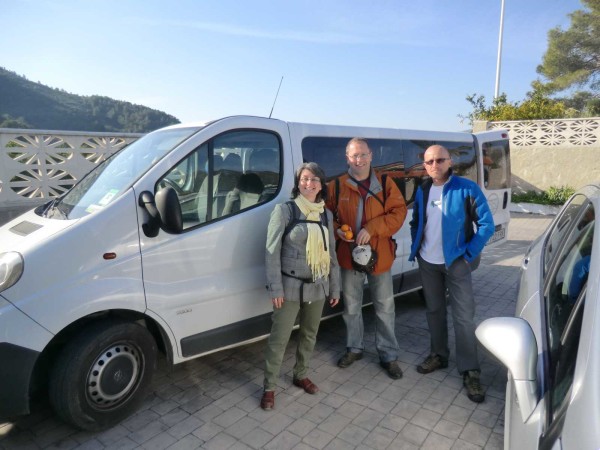 Spring Activity Holidays in Spain
The cooler months of the year give a great opportunity to enjoy all that the Costa Blanca has to offer in the way of outdoor activities, many of which would be impossible in the height of the summer. Rock-climbing, mountain biking and bird watching are all hobbies and activities that visitors can take part in, and local tourist organisations are now beginning to promote the area as somewhere to come for more than just the traditional summer attractions of sun and sea.
Recently we were very pleased to welcome Jean-Marc and his wife Nathalie who are from Quebec in Canada. They were in Spain visiting their daughter who is studying in Barcelona, and as part of their trip they wanted to spend some time in the northern Costa Blanca birdwatching. They booked one of our all-inclusive 3 night Birdwatching Packages, which basically takes care of everything they need, with all evening meals included, packed lunches, and 2 days guided birdwatching.
They arrived on the Monday afternoon and settled in, enjoying a leisurely dinner that evening before meeting their guide the next morning. They set off to the Albufeira wetlands just to the south of Valencia city for the day, and were rewarded with sightings of many kinds of birds not seen in north America. The birds were particularly plentiful as this is the time of year that the rice fields are ploughed prior to sowing the forthcoming season's rice crop – and some of the fields were being prepared on the morning of their visit. They returned after a most enjoyable day and were glad to be able to look forward to a relaxing evening meal and a good night's sleep.

The next morning they headed in a different direction – inland this time – to the plains of Castilla de la Mancha and had another great day being shown even more species of birds, and in an area that they had been totally unaware of. They were able to tick off several species that they had wanted to see but never had, so returned delighted that it had been such a worthwhile excursion. Wednesday evening was again spent relaxing over a leisurely dinner before leaving on Thursday morning to drive back to Barcelona for a final couple of days with their daughter before flying back to Canada at the weekend.
It had been a perfect interlude for them during their Spanish trip and an excellent opportunity to pursue something they are very keen on – and in beautiful surroundings and perfect weather too! They loved this part of the country and are most certainly keen to return in the future. It was a real pleasure to have another set of guests from Canada and we most definitely look forward to the time when we might see them again.
No sooner had Jean-Marc and Nathalie left us, than two more Canadian guests arrived – this time Scott and Alain, who are two friends who share an enthusiasm for mountain biking. They had visited us at this time last year, along with another friend Mario who was not able to make it this time, and wanted to enjoy more mountain biking trails in this part of Spain.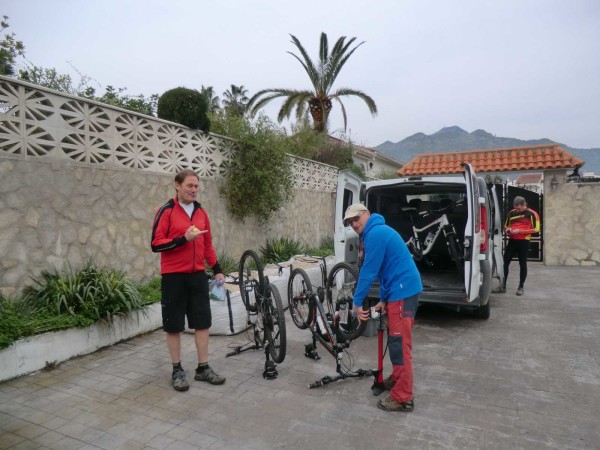 They had booked to stay with us for 4 nights, and planned to have two days of guided mountain biking and a third day in the middle when they would just go buy themselves wherever the mood – and the bikes – took them! Since they were already familiar with the area and knew the town of Gandia from their previous visit, they checked in to their rooms in the late morning and drove down to the town for lunch and a stroll in the spring sunshine. They returned to us during the course of the afternoon and were able to make the most of the beautiful warm weather in the gardens for the rest of the day. They dined with us that first night before taking the opportunity to catch up on some sleep before their first day's mountain biking on Friday morning. They met with their guide – Dave Warrington, who had accompanied them last year – and set off for the day in the La Safor mountains nearby. As ever, they were treated to spectacular views and near perfect weather, and of course a good work-out all at the same time. Having come from Montreal, where their plane had been delayed while a snow storm passed over, the lovely spring weather of the Costa Blanca was a real treat, with temperatures in the low 20's – perfect for biking without being too hot.

On the Saturday, they had decided they would use some of their knowledge of the area from last year and go it alone, following a route they had particularly enjoyed previously. This included an especially scenic route along beside the Serpis river, following the line of a disused railway track that had originally gone from Alcoi to the port of Gandia. This brought them to the town of Villalonga, and from there it was a question of cycling along country roads and lanes through the orange groves to get back home to us in time for a shower before heading out to Gandia for the evening.
Sunday was another day spent with their mountain biking guide, who showed them a new route, again through beautiful scenery – and of course up some fairly demanding ascents! However, it was a great day and the weather played its part to perfection yet again, showing that the Costa Blanca really is a great spring destination for activity holidays of all kinds. They returned to us in the late afternoon, again in time to enjoy some late sunshine in the garden. Their only regret was that the pool is not yet warm enough for swimming – although they were nearly tempted! Their last evening was spent with us over a relaxed dinner before a well-deserved night's sleep. The next morning they were heading off in the direction of Alicante province to spend a couple more days biking in an area they had not explored before – this time higher up in the mountains there. It was great to see them again and they thoroughly enjoyed their time with us – hopefully we shall see them back for a third visit next year, on another one of our Activity Holidays in Spain!