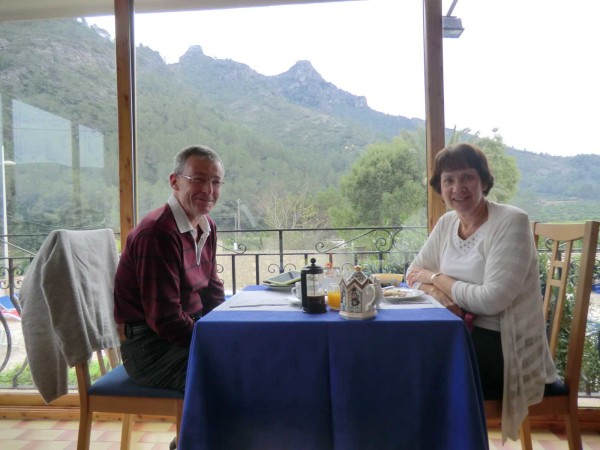 Spain or France for Property?
We have recently been aware that more guests have been visiting us for the purpose of looking for a Spanish property on the northern Costa Blanca. Spanish property prices are now at a very realistic level compared to many other places in Europe (northern Europe especially), and this has been reflected in a gradual increase in the number of property hunters – once an almost extinct breed!
Colin and Helen arrived to stay with us on one of our Property Hunters Packages, and booked with us for five nights recently. They are very taken with the idea of a home for their retirement and would love to find somewhere that offers a good and healthy lifestyle, reasonable living costs, and of course better weather. They have been turning the idea over in their minds for some time, and are torn between either France or Spain for this big life changing decision, so this trip was very much a preliminary reconnoitre – basically to see what this part of the country is like and whether it is somewhere they could add to their list.
They had not contacted any property agents, but rather wanted to get a feel for the area in general and so each day they went "out and about" to see what sort of towns and villages they might like, and what property was available in different locations. They had decided to come to the La Safor region on their property search on the correct assumption that this area is still not one with a particularly high ex-pat population – they wanted an area that is still predominately Spanish in its flavour and atmosphere. They liked the area very much, but of course finding the right combination of the type of property that would suit them in a town that also met their requirements can always be challenging.
However, they asked us for pointers as to which towns might be to their taste and every day went on trips to check out different areas. Towards the end of their stay they explored the coastal region in the Moraira area, and loved the town and its port. For them it felt like a place they could imagine themselves feeling comfortable in – and such an initial impression is very often the one that stays with you. However, this was very much an initial exploratory exercise, but one that they found very valuable. They now feel that it would be well worth their while to return to us and focus their energy on that specific part of the coast – maybe arranging a few viewings of suitable properties at the same time.
After leaving us, they were going to spend a couple of nights close to Alicante to gain a better impression of that general area and to be able to make a comparison between the northern and southern parts of the Costa Blanca. We thoroughly enjoyed having them stay with us and would be delighted to welcome them back again to continue their search. By the end of their visit, they had decided that Spain would suit them better than a home in France and now it was probably a question of narrowing their search to the Moraira and surrounding area. We very much look forward to seeing them again soon.