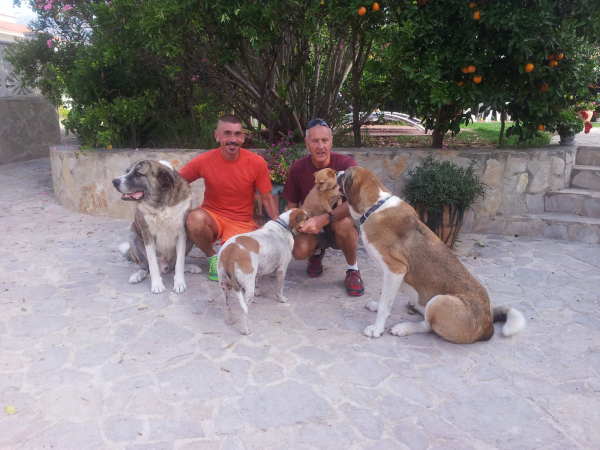 Casa Rural 2014 Summer of Diversity
2014 has been a long and busy season for us at Villa Florencia Casa Rural, with a wide variety of guests from countries all over Europe and beyond. We were happy to welcome so many new visitors, but delighted that a large number of guests returned to us who had been here before. Not only has our Bed and Breakfast accommodation been as popular as ever, but bookings for our self-catering apartment have been at a very high level, with guests checking in there almost continuously throughout the year.
The first bookings of 2014 were for visitors coming for the attractions and activities that are best enjoyed in this part of the Costa Blanca in the cooler months of the year – hillwalking, mountain biking, rock climbing, etc. In addition, "Las Fallas" is the first annual fiesta in the local calendar, and this year we had guests visit us especially for the celebrations. They had been to the area before and enjoyed the fiesta in previous years, but this was the first time they had stayed with us – and they clearly enjoyed the experience as they have already booked again for 2015! More returning guests then arrived in the form of a group of Canadian mountain bikers – again, coming back to enjoy the beautiful scenery and some bright, sunny weather.
After that, the year became ever busier with a mix of guests, including more property hunters this year too. An interesting development down at Playa de Gandia also had favourable repercussions for us – the Town Hall began to promote very actively the fact that there was now a recently designated area of the beach – and a very beautiful and unspoilt part – for use by pets and their owners. As a result, many Spanish dog owners were wanting to come to Gandia for their holidays, but not every hotel is necessarily welcoming to pets. However, we promote ourselves as being very pet friendly and as a result had many Spanish couples book rooms for themselves and their canine companions! One golden Labrador in particular was so relaxed and at home here that he was happy to float in the pool on a li-lo – and the resulting photo won first prize in a Spanish pet photographic competition!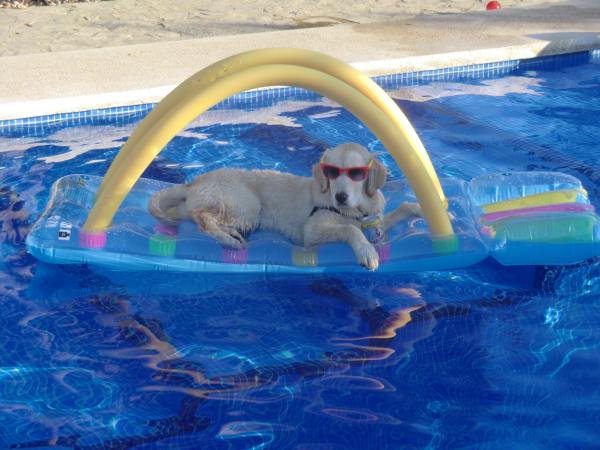 We were also happy to welcome a greater number of French holidaymakers this year than in the past – indeed our very first guests in January were from France, and the trend continued throughout the season. Other nationalities included guests from the USA, Finland, Sweden, Holland, Belgium, Switzerland and many other countries – but strangely this year no visitors from Italy. In previous years many Italians have come to our part of the Costa Blanca, but their absence was noticed and remarked upon this year by many in the area. July and August were naturally our busiest times, with people wanting to enjoy the traditional attractions of the Costa Blanca – beautiful weather and some of the best beaches in the whole country. The weather this year has been the traditional Spanish summer of high temperatures and lots of sunshine – and a very long-lasting one too. The lack of rain has been an issue for local farmers of course, with no sustained rainfall for about two years now. We have just recently had some autumn storms and downpours, but nothing to make up for such a prolonged period of drought.
Bookings are still coming in for what remains of the year – and again, as one would expect for the season, our visitors are mainly climbers and walkers. The apartment has already been booked by a family hoping to enjoy an away-from-it-all Christmas with some sunshine thrown in (hopefully), so 2014 will turn out to be a busy an interesting year. It has been especially gratifying to see so many guests coming back to out Casa Rural for a return visit, and of course we hope to see many more in 2015.