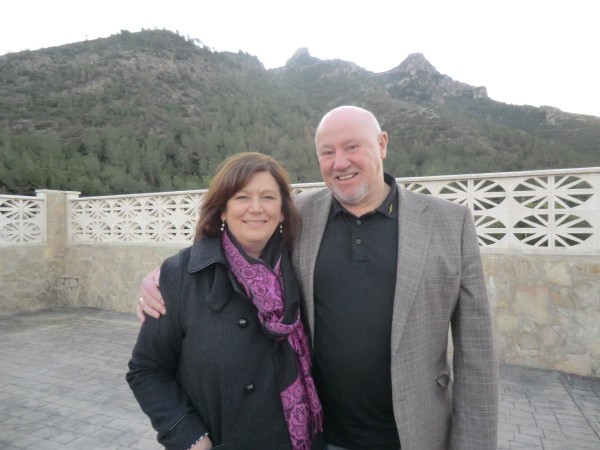 House Hunters become House Purchasers!

We were delighted to receive a booking from property hunters Andrew and Sandra, who wanted to stay with us for a couple of weeks, starting shortly after Christmas. They had stayed with us in September – property hunting, during which time they had found the house they wanted to buy, and now the purpose of their visit was to move the purchasing process forward and to establish exactly what work they would want to have done in the house – and obtain quotes, make contacts with tradesmen and of course check out the local DIY stores for future reference!
Andrew and Sandra are buying a Spanish property at a really great time. They are able to make the most of the advantageous exchange rate at the moment, as well as benefitting from the vastly reduced prices of property here on the Costa Blanca. Many people are realising that this great combination is a huge advantage right now, with the result that we have seen a noticeable increase in the number of property hunters – and indeed buyers – compared to the last few years since the financial crisis of 2008.
Sandra and Andrew are buying with a view to moving here permanently in a year or so and intend to spend the intervening time wrapping up their lives in the Channel Islands where they currently live, as well as taking their time to organise all the work they want to have done on their new home. It is a house that has been unoccupied for some time, so basically just needs a certain amount of updating and general maintenance. Kitchen and bathroom companies have been in contact to quote for the work they want to have done indoors, as well as general builders for some repair work to the garden wall.
They settled on this area after holidaying in Spain for a number of years, finding this part of the Costa Blanca particularly appealing. Despite having some of the best beaches in the whole country, this is an area which is still relatively undiscovered by the foreign tourist and therefore is still much more "Spanish" than most other parts of the Mediterranean coast. Combined with the truly beautiful mountain scenery and the verdant green of the landscape, this all makes for a unique combination of factors to attract the foreign house hunter.
Our local town of Gandia is a great centre for shopping and general quality of life and of course the stunning city of Valencia is only a short car or train trip away. Two airports are within easy reach – Valencia and Alicante – and provide a wide range of flights to many different destinations both in the UK and the rest of Europe. All things considered, it would be hard to find a more appealing part of the country in which to begin a new stage in life.
We wish Andrew and Sandra a speedy and trouble-free conclusion to their house purchase, and of course we look forward to welcoming more property hunters in the year ahead.
Thinking of buying a property in Spain? Thinking of a lifestyle change? Do you know which part of Spain is right for you?

If you are interested in the La Safor region of Spain, why not book one of our 3 or 5 day regional inspection tours.
We offer you the opportunity to come and see the area without any pressure or obligation.