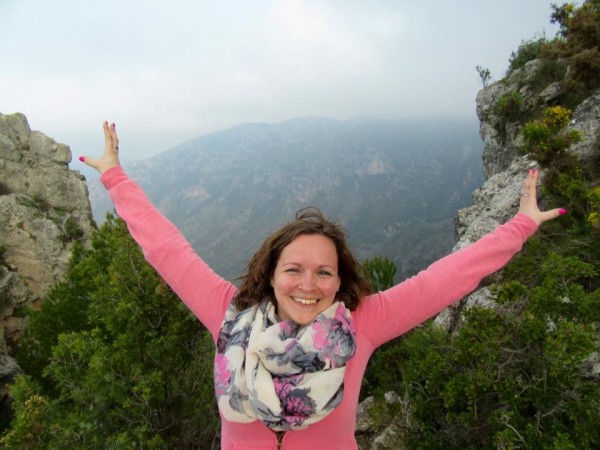 Spring B&B Guests
We have enjoyed a busier than usual start to the year here at Villa Florencia, with a variety of guests from different countries – and coming for different reasons.  Before the warmer weather really starts in earnest we generally have a steady succession of guests each year who come for the renowned rock climbing in the area, as well as cycling, hiking, etc. and this year has been no exception.
However, as well as these guests, we have also been fortunate enough to play host to many other couples in the last three months(some more than once!) who have visited us for different reasons.
It is reassuring to see a sustained increase in the number of property hunters in the area – a trend that has been establishing itself over the last year or so.  Not only have we seen guests looking for the house of their dreams – we have also seen them turn their plans into reality.  One such example is Kirsty and Peter who have been living in Germany but decided a warmer climate would be to their liking.  After several visits to us they finally found their ideal property and signed on the dotted line in February before finally moving in during the first couple of weeks of March.
Paul and Roy also visited us looking for a home to buy, and spent a lot of time and effort in January searching for the right one, only to be thwarted by land registry issues with the property they had decided upon.  However, they came back again in March and this time it seems that their search may be over, having found another suitable home – this time slightly nearer Valencia city.  They have now gone back to London, hoping that the legalities can be brought to a satisfactory conclusion in the near future.  Gilbert and Marissa from The Netherlands also stayed with us for a few days and could be described as being in the very initial stages of looking for a property – their focus, however, was still more on first settling upon an area in which they would then look to buy.
Our other guests so far in 2016 have visited us for a variety of different reasons.  Markus and Margit from Germany stayed in our self-catering apartment as a change from their usual way of spending the winter, namely in their camper van in Andalusia.  They came to us initially for only a few days as a stop-over on their way south, but decided the apartment was distinctly preferable to their normal plans and remained our guests from early January until the middle of March!  The annual fiesta of Fallas has also attracted many visitors to the town in March, and we were happy to welcome back Sandy and David for the third time – they are keen spectators of the fiesta and this year were able to combine it (on March 19th) with the following Easter weekend as well, and thereby witness all the Easter parades in Gandia too.
Vincent and Kim also returned to us this year from Belgium.  They have visited us in the summer previously, but this year decided they needed an early spring sunshine break so were also able to get a taste of the Fallas fiesta.  Their main focus, however, was to relax in the sunshine and enjoy the surrounding countryside, enabling Vincent to go on some training runs in the country tracks in the area.




Another set of B&B guests intent on enjoying the pleasant weather was Shai and Swati from Israel with their two children.  They were in fact staying with us in order to spend time with their friends who have recently moved to the area but were not able to put them up in their new home just yet!
We are now looking forward to what looks like a very busy start to the main season, with bookings from guests coming to attend a wedding in the area, as well as another set of guests actually getting married during their stay and celebrating the evening here at Villa Florencia.  The self-catering apartment is also very well booked up already, so there are even times in the calendar when we genuinely can say that "there is no room at the inn"!