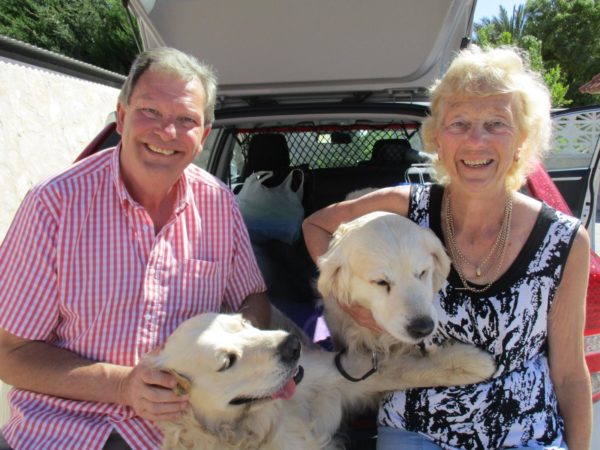 2016 – A very "Pet Friendly Year" so far!
At Villa Florencia we always pride ourselves on welcoming not only our human guests, but also any canine guests that happen to bring their humans along with them!!  It is often very difficult to find a pet friendly hotel and guest house accommodation where the family pet is welcome and so we have had several guests already this year who have visited with their pets.  Some have been new guests who have not visited us before, whilst others have been very welcome "returners"!  And we are expecting the arrival of yet more canine guests in the near future – particularly a lovely Golden Retriever and his Spanish owners who won a photo competition of their pet relaxing on an air-bed in the swimming pool last summer!
Brian and Marilyn returned with their two lovely Golden Retrievers named Carlos and Paco earlier in the month.  They live in the south of Spain but like coming to this part of the country for a pet friendly break with their dogs and visited us last October and again now in May.  Not only that – they have booked for a third visit in October this year as well!  They stayed with us for a week in the self-catering apartment and found that the space and amenities there suited their needs perfectly.  They were able to enjoy a feeling of independence but still mix with our other guests – as well as with their dogs too!






David and Pauline also stayed with us for a couple of nights, of pet friendly accommodation, on their way to a holiday in the south, and in fact have also booked to stay here on their return trip in June.  They have a black Labrador named Charlie who, like all our doggie guests, got on very well with our own four.










Angelo has also visited us this year – his third visit altogether!  He lives with his British owners in France, but they all like to come here for some relaxation in the Spanish sunshine, as well as making it an ideal opportunity to meet up with a great friend of theirs who lives in Scotland but who rendezvous with them here at Villa Florencia for a "catch-up" type pet frienly holiday.  They have also booked to return to us later in the year again – much to the joy of our own Lola, for whom a visit from Angelo is always particularly welcome!








Our guests always find that they can relax and enjoy their visit here in the knowledge that their pet is welcome and also happy to be in the company of our own dogs.  In addition, Gandia has a dedicated stretch of beautiful pet friendly beach where dog owners are made especially welcome and many of our guests take the opportunity to take their dogs for a trip to the seaside during their stay!  It is always a pleasure to welcome our pet owning guests back, and of course to make the acquaintance of other, first-time visitors.  2016 looks like being quite a pet friendly year!