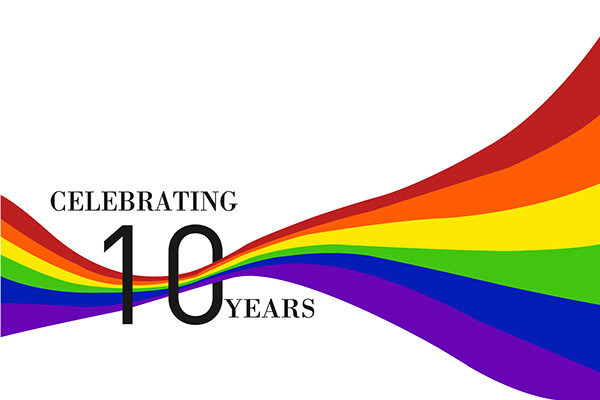 2006 – 2016 – Ten Years On!
2016 marks our tenth anniversary as the owners of Villa Florencia Casa Rural and this year has been the most rewarding yet! We have not only had our busiest year, but it has also been a year when we have been delighted to see so many of our guests returning to us time and again – and recommending us to their family and friends who have also come to stay with us.
This year has seen a great mixture of guests from Spain, the rest of Europe, the UK and even from across the Atlantic. Noticeable too is the number of guests coming to us with their own pets (usually dogs) in response to our promoting ourselves as providing pet-friendly accommodation – with many of them returning to us several times.
The year started for us with a German couple staying for a prolonged period in our self-catering apartment. They are normally in the habit of spending the winter months through to March in their camper van in the south of Spain, but this year called in for a couple of nights to visit other guests (friends of theirs) who were staying with us and decided to stay in the apartment for the winter – this being a considerably more comfortable option than the camper van! At the same time as Markus and Margit were with us, we of course also had the customary mixture of guests that we usually have in the first couple of months of the year – rock-climbers, property hunters and others simply wanting to escape the grey skies of northern Europe. These came mainly from Holland, Belgium and of course the UK.
As soon as the winter chill starts to ease up and the spring sunshine arrives, the first thing on everybody's mind in this area is the huge fiesta of Fallas, which culminates in the burning of huge effigies in the streets on the night of March 19th. This always brings a wave of guests, and again this year we were pleased to welcome Sandy and David back, who have spent a fortnight with us for the last several years, enjoying the spectacle of the fiesta and the build-up to it. After Fallas comes Easter, and this year was a particularly busy April because not only did we have guests enjoying the Easter break itself but later in the month we were fully booked with guests from England who were attending the local wedding of a couple who have settled in the area.
Weddings were a kind of theme with us this year, as the following month – May – we were delighted when one of our most frequent guests (Sabrina from Germany) stayed with us along with her entire family in order to celebrate her wedding to Monius nearby. We were more than happy to cater for the family's post-wedding dinner that evening – and the weather was perfect, with dining and dancing outside making it a great day to remember, for us as well as for them.





After that, it was time for the summer season to begin and a great procession of guests, both new and returning. Several of our summer guests came with a double purpose in mind when they visited us this year – some relaxing time in the sunshine of course, but also they returned home with a newly acquired tattoo (or two!). A former guest – Peter – and his partner Kirsty have settled nearby after spending several visits with us looking to buy a home in the area. They found their ideal place very close by and Peter now splits his time between Spain and his native Bavaria. His profession is a tattoo artist, but his particular speciality is much sought after, in that he uses a very traditional Thai technique of hand tattooing rather than using a machine. Peter is well known in this field and his customers travel to see him here in Spain – and many have stayed with us this year, some even returning more than once!
Apart from Peter's clients, we had a great variety of summer holidaying guests from all over northern Europe. Couples from Spain with their families (and often pets!), families from the UK staying with us whilst visiting relatives in the area and many guests from the rest of Europe (including this year several from Scandinavia) all combined to make for an eclectic mix of guests throughout the season. For one week in August we even managed to have some of our own family visit us – son and daughter with their partners and children here all at the same time together – another "first" for us this year and a chance for us to have a bit of a summer break with them at the same time! Another young family were in the apartment at this time as well, so they were all company for each other too.










Our self-catering apartment has been particularly well occupied this year in fact, with bookings from early January carrying on almost continuously until October. The apartment is often the preferred choice of pet owners since it affords them the extra space that is well-appreciated by both owners and pets alike. We already have several bookings for the apartment in place for 2017, including a continuous reservation from early January to the middle of March, so it looks as if its popularity is assured for the coming year as well.
Even October was an unusually busy month compared to previous years, but now that Autumn is finally showing signs of arriving after a wonderful spell of unseasonably warm weather, our stream of guests has reduced to a trickle – which allows us not only a little more free time, but also gives us the opportunity to carry out some minor improvements around the property before the next influx of guests and what already looks like a busy 2017. A bit of redecoration in some of the rooms and the upgrading of one bedroom from a "double" to a "king" are the first things on the agenda and then no doubt many other ideas will crop up as we go along. One thing is for certain though – we shall use this time to prepare for another busy and enjoyable year in 2017 during which we hope to see many more of our guests return to us for another visit. We look forward to welcoming them all and of course we thank every one of our guests who chose to visit us during 2016! We hope to see you again.