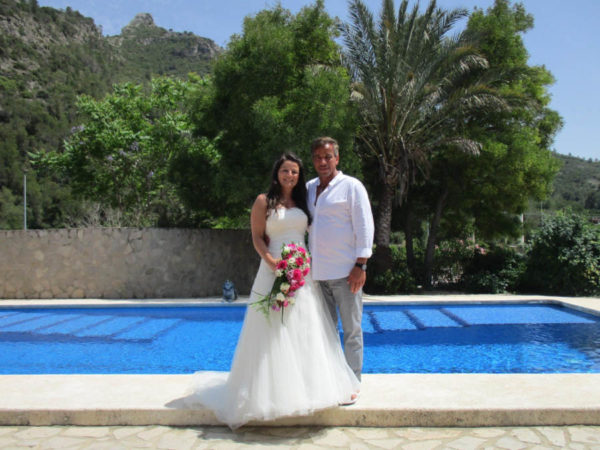 Family Wedding at Villa Florencia
Every year (and sometimes more than once) we are delighted that Sabrina visits us from Germany.  Sabrina comes and spends her time helping at our local animal rescue centre – SPAMA – which is a local charity that rescues and re-homes lost and abandoned dogs and cats.  Not only does Sabrina help at the centre here in Gandia during her visits, she also is instrumental in helping to find new homes in Germany for many of the dogs from SPAMA.  To date, more than one thousand dogs have been moved from Gandia and adopted in Germany and much of this is due to Sabrina's efforts.  When over here, Sabrina stays in our self-catering apartment along with various members of her family that might be accompanying her, as well as her boyfriend Monius.
This year, we received the usual reservation from her, although this time for a visit in May, rather than her more usual time of September or October and also she said she wanted to bring more members of her family as well.  It then emerged that this was no ordinary visit, but that she and Monius intended to get married here in Spain during their time here as they have always felt so happy and at ease during all their previous visits.
And so it was that they arrived with Sabrina's parents, uncles, aunts, nieces and nephews and settled in for a stay of just over a week, with their wedding obviously as the highlight and focal point of the trip.  True to form, however, Sabrina and Monius still spent a lot of their time helping at the rescue centre as always and even enlisted the assistance of many of their family members as well!  They arrived on a Thursday and all of them soon settled in to life here at Villa Florencia and getting used to their surroundings.  The wedding was to take place on the Tuesday, and their plan was to have the ceremony at a beachfront location in Denia, followed by a family dinner here at Villa Florencia in the late afternoon.




We were genuinely delighted that Sabrina and Monius had asked us to prepare a meal for them on such a special day and we liaised with them beforehand about how they would like everything to be.  The weather played along perfectly and the big day was beautifully warm and sunny, without being too hot.  It was just a perfect setting to have their dinner outside by the pool in the late afternoon and then for them to spend time with their family in the garden until around midnight.  The music played from the lower terrace (ably organised by two of Sabrina's nephews!) and everything came together to make it a great day for them to remember – and for us to be able to make it special for them as well.
































We are already looking forward to Sabrina and Monius' next visit to us in September but in the meantime we hope that their big day here at Villa Florencia will give them many happy memories for years to come and we would like to take this opportunity to wish them every happiness in their life together.